Oliver grew up in London and the Cotswolds and from an early age developed a love of cartoons and caricature through the books of H M Bateman, Thelwell, Tintin and Charles Addams. As a child and at school Oliver drew extensively. He is completely self taught. After Eton College, where he won the Gunther Graphics Prize for Art, Oliver attended Exeter University, and then spent ten years working in the City of London, latterly as a director of bond sales at Lehman Brothers.
However he saw the light in 1995 and left the City to become a full-time cartoonist and illustrator. His early cartoons were published in Punch Magazine, Paris Match, The Beano, The Dandy and The Spectator, and from 1995 to 2020, Oliver was the regular cartoonist for The Field Magazine. Since autumn 2019 Preston has been drawing weekly cartoons for Country Life Magazine.
His funny cartoons have also appeared in Cotswold Life and The Polo Magazine amongst others, and he has contributed to The Times, The Guardian, The Daily Mail and The Independent newspapers.
With a keen eye for social observation, his cartoons are beautifully drawn with a very individual style. The situations are very close to people's everyday lives, and there is often a splattering of languid lovelies, dilettantes and doting dogs. Oliver has developed a wide following, especially for his shooting and skiing cartoons, and drawings that depict the quirkiness of British town and country life.
He has held one man shows at The Fine Art Society in Bond Street (1999), The Addison Ross Gallery, London (1990), The Mall Galleries, London, (2014 and 2016) and regularly at the Gstaad Palace in Switzerland.
He has also produced twenty books of his cartoons, (as collections and illustrations) which can also be purchased as limited edition prints, and as funny birthday cards.
Oliver is based in Gloucestershire and over the past twenty five years, he has developed a loyal customer base, working for a diversity of clients, on caricature commissions, christmas cards, cartoon invitations, and much more.
Today, Oliver Preston's greeting cards are published by Beverston Press which ships to trade and retail customers around the globe. You can see more here: https://en.wikipedia.org/wiki/Oliver_Preston
---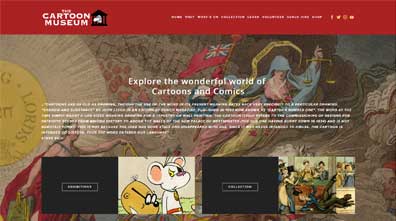 Oliver was appointed the youngest Trustee of The Cartoon Art Trust in 1992, and founded and devised the first Cartoon Art Trust Awards held 14/11/95 at The Royal Society of Arts, for political, gag, pocket, advertising, strip cartoons and caricatures.
He is been chairman of the Cartoon Art Trust since 2001, and co-founded London's first Museum of cartoons in 2006.
If you would like to have more information on how to become a Friend of The Cartoon Museum, visit the Cartoon Museum website. In 2019 the museum moved to new premises in Wells Street, off Oxford street in Fitzrovia, W1. Members receive CAT's newsletter and information on cartoons, exhibitions, lectures, children's cartoon classes and details on the annual Cartoon Art Trust Awards. CAT has a collection of over 6,000 originals by Britain's finest cartoonists from Gillray, Rowlandson and Cruikshank, through the Punch cartoonists, and Bateman, Pont, Heath Robinson, Ronald Searle, Giles, Mel Calman, Nicholas Garland, Peter Brookes, Steve Bell and many many more. www.cartoonmuseum.org