British cartoonist for over 25 years, published in 20 books, and chair and co-founder of the Cartoon Museum in London.
Oliver grew up in London and the Cotswolds and from an early age developed a love of cartoons and caricature through the books of H M Bateman, Thelwell, Tintin and Charles Addams. As a child and at school Oliver drew extensively. He is completely self-taught. After Eton College, where he won the Gunther Graphics Prize for Art, Oliver attended Exeter University, and then spent ten years working in the City of London.
However he saw the light in 1995 and left the City to become a full-time cartoonist and illustrator. His early cartoons were published in Punch Magazine, Paris Match, The Beano, The Dandy and The Spectator, and from 1995 to 2020, Oliver was the regular cartoonist for The Field Magazine. From autumn 2019-2021 Preston has been drawing weekly cartoons for Country Life Magazine.
His cartoons have also appeared in Cotswold Life and The Polo Magazine amongst others, and he has contributed to The Times, The Guardian, The Daily Mail and The Independent newspapers.
With a keen eye for social observation, his cartoons are beautifully drawn with a very individual style. The situations are very close to people's everyday lives, and there is often a splattering of languid lovelies, dilettantes and doting dogs. Oliver has developed a wide following, especially for his shooting and skiing cartoons, and drawings that depict the quirkiness of British town and country life.
He has held one man shows at The Fine Art Society in Bond Street (1999), The Addison Ross Gallery, London (1990), The Mall Galleries, London, (2014 and 2016) and regularly at the Gstaad Palace in Switzerland.
He has also produced twenty books of his cartoons, (as collections and illustrations) which can also be purchased as limited edition prints, and as humorous birthday cards.
Oliver is based in Gloucestershire and over the past twenty five years, he has developed a loyal customer base, working for a diversity of clients, on caricature commissions, christmas cards, cartoon invitations, and much more.
Today, Oliver Preston's greeting cards are published by Beverston Press which ships to trade and retail customers around the globe. You can see more here: https://en.wikipedia.org/wiki/Oliver_Preston
---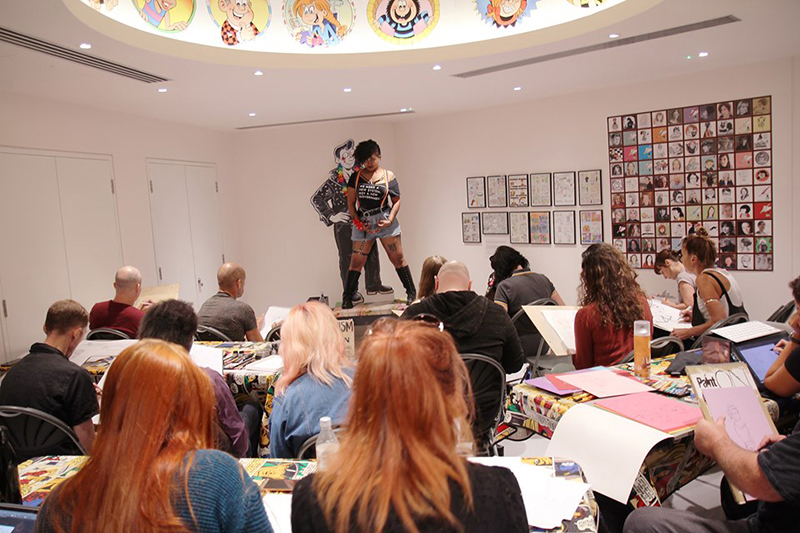 Oliver was appointed the youngest Trustee of The Cartoon Art Trust in 1992, and founded and devised the first Cartoon Art Trust Awards held 14/11/95 at The Royal Society of Arts, for political, gag, pocket, advertising, strip cartoons and caricatures.
He has been chair of the Cartoon Art Trust since 2001, and chair of the Cartoon Museum since he co-founded London's first Museum of cartoons in 2006. The museum has received over 420,000 visitors.
LISTEN TO OLIVER TALKING ABOUT LOSING PATRON HRH PRINCE PHILIP DUKE OF EDINBURGH – HERE.
Trustees raised £350,000 to take an initial 7 year lease on a converted dairy off Museum Street, opening Britain's first museum of cartoons. Patron, Prince Philip, The Duke of Edinburgh officially opened the premises on 22nd February 2006. The museum had three main galleries displaying original artwork from British cartoons and comics, past and present. Temporary exhibitions since 2006 have featured Private Eye, William Heath Robinson, Steve Bell, Giles, Pont, H.M. Bateman, Viz Comics, Ronald Searle, The Beano, Ralph Steadman, Rowland Emett and many others. At the heart of the museum lay its growing collection of cartoons, caricatures and pages of comic-strip art. The foundations of modern British political and social cartooning can be found in works by Hogarth – whose social satires are regarded by many as the foundation of the British cartoon tradition, James Gillray and Thomas Rowlandson. The permanent collection also included works by a number of fine Victorian cartoonists including John Leech, George Cruikshank, George Du Maurier and John Tenniel. William Heath Robinson – whose name is synonymous with outlandish and hilarious contraptions – hung with his contemporary, H.M. Bateman, two of the most successful cartoonists of the first half of the 20th century. Also featured in the permanent collection are Pont, Gerald Scarfe, Ronald Searle, Giles, Martin Rowson, Steve Bell and a host of favourites from newspapers and magazines. Throughout the early 2000s the museum added significant collections of comic and graphic novel art, and hosted diverse exhibitions celebrating the new genres of cartooning. In 1995 the trust set up Awards to celebrate the very best of British cartooning – political, strip, caricature, pocket, joke – wishing to recognize outstanding practicing British cartoonists. Searle, Steadman, Scarfe, Thelwell, Fluck and Law, Peter Brookes, Mac, Garland, Raymond Briggs, Giles have received Lifetime Achievement awards and over 30 years Young Cartoonists in U18 and U30 categories have been rewarded. The 2009 winner went on to win an Emmy for his work, and many have gone on to become professional cartoonists.
Until recently the Museum was entirely self-funded, with support from charitable trusts, admissions and trading income. The museum's collection of original art has grown from 500 items to 6,000 and the library to 18,000 books and comics.
A NEW HOME IN WELLS STREET
At the end of 2018 the museum's lease was set to expire and trustees managed to secure a 25 year lease at a peppercorn rent from landlords Great Portland Estates under a section 106a, enabling the museum to have a new – permanent home from the beginning of 2019. £1,100,000 was raised from charitable trusts to renovate the space into a modern new museum and building works were carried out in 2019, coming in £100,000 under budget. The new museum opened in July 2019, with two exhibition galleries, and a Clore Learning Studio, and office premises were rented on a five year lease in Margaret Street nearby.
COVID – EXTRAORDINARY TIMES
In March 2020 the museum was forced to close temporarily, after having seen visitor numbers up 116% in January and 125% up in February 2020. Trustees were very concerned that its reserves would run out in October 2020 without any income from trading or admissions.
The survival project had an initial, essential, target of £150,000. Since May 2020 the museum has raised over £320,000 to secure its future, further augmented by an Arts Council Culture Fund grant of £96,000 in March 2021. A total of over £400,000 ensuring the museum's survival.
The museum was reopened in May 2021, with a new exhibition, V for Vendetta, 30 years after the Cartoon Art Trust's first exhibition.
NOTABLE EXHIBITIONS
1991 The Old Lady of Threadneedle Street at Bank of England Museum (Sponsored DKB £5k -OP)
1992 All the World's a Stage. Allan Cuthbertson Collection at
Carriage Row, Eversholt Street.
The Art of Laughter at the Ashmolean Museum
1993 Giles 50 Years at the Express . at Carriage Row, Eversholt Street. Opened by the Duke of Edinburgh
1994 Coping with the Relations Anglo-German Cartoons from the fifties to nineties
1995 Mirth of a Nation. A-Z of Cartoon Art Trust Collection
The Prime Ministers to coincide with Lord Baker's Book
Judge Dredd Mega Exhibition
1996 A Collection of Calmans
All in the Stepfamily
1998 A Cartoonists Progress: In the footsteps of Hogarth
1999 Lottery laughter
'Gemma' Bovary Posy Simmonds
2000 Happy Birthday Snoopy: Peanuts cartoons by Charles Schultz
Dan Dare at 50
The 100 British Cartoonists of the Century
2001 The Irrepressible Hoffnung
Dennis the Menace: 50 years of mischief
2002 The Kings and Queens at the Mall galleries. Opened by patron, HRH Duke of Edinburgh
John Jensen Retrospective
2003 Thelwell Country; 70 Years of Norman Thelwell
The Art of Leaving Out: a Phil May centenary exhibition
A Mixture of Gin and Buttercups: Michael ffolkes retrospective
Hidden Treasures of Humour – Cartoons from the CAT Collection
Minnie, Plum and the Bash Street kids at 50
Arnold Roth
2004 The Humour of Embrarrassment: HM Bateman Man Who Cartoons
Censored at the Seaside: Donald McGill's censored cards
Grin and Blair It; 10 years of Tony Blair in cartoons
2005 Alfred Bestall's Rupert Bear
2006 The Age of Glamour; Theatrical cartoons by Robert Sherriffs
Mars in their Eyes – with Prof. Colin Pilinger
London Life
You're not art. A collection of Calmans
Private Eye at 45
2007 This is the life eh?; Cartoons by Mike Williams
Alice in Sunderland exhibition. A Labyrinth of dreams
Heath Robinson's Helpful Solutions
Eurobo££ocks! Britain's relationship with Europe 1957-2007
2008 A View of Dightons: Caricaturist, actor and thief.
Beano Dandy 50 Birthday Bash
Pont; Observing the British at Home and Abroad
2009 Maggie! Maggie! Maggie!
A Peep into Clubland;Cartoons from London Clubs
Engines of Enchantment -Cartoons by Rowland Emett
Viz at 30
2010 Ronald Searle: Graphic Master
Only Joking!
Toy Tales – Classic British Animation
Fougasse: Careless Talk Cost Lives
Ink and the bottle: Drunken cartoonists and drink in cartoons
2011 Les Tres Riches heures de Mrs Mole: Ronald Searle
Marriage a la Mode
Bell Epoque: Steve Bell retrospective
Doctor Who in Comics
2012 Her Maj
2013 All that Jazz: Wally Fawkes
Steadman @77
2014 30 years of Spitting Image
WW1 Anniversary in Cartoons and Caricature
Bring Me Laughter: George Walker Collection of Cartoons
2015 WW2 in Cartoons
2016 Ralph Steadman Retrospective
2017 Inking Women: A celebration of women cartoonists
40 years of 2000 AD
2018 CAT Museum Collection farewell to Little Russell Street
2019 Drawing Life curated by Steve Bell
Comic Creators
2020 Dear Mr.Poole
Hail to the Chief
2021 V For Vendetta; Behind the Mask
If you would like to have more information on how to become a Friend of The Cartoon Museum, visit the Cartoon Museum website. In 2019 the museum moved to new premises in Wells Street, off Oxford street in Fitzrovia, W1. Members receive CAT's newsletter and information on cartoons, exhibitions, lectures, children's cartoon classes and details on the annual Cartoon Art Trust Awards. CAT has a collection of over 6,000 originals by Britain's finest cartoonists from Gillray, Rowlandson and Cruikshank, through the Punch cartoonists, and Bateman, Pont, Heath Robinson, Ronald Searle, Giles, Mel Calman, Nicholas Garland, Peter Brookes, Steve Bell and many many more. www.cartoonmuseum.org